The Born Learning Trail is a series of bilingual interactive signs that offer fun, active learning activities for young children and their families. It helps parents, caregivers and communities create quality engagement opportunities when out on a stroll or visiting a local playground.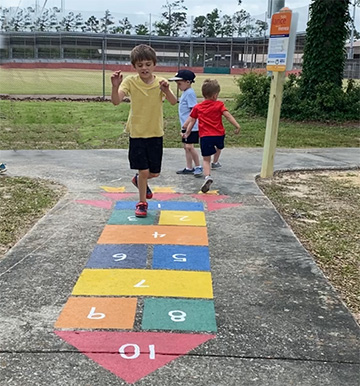 United Way of Southwest Louisiana was able to build its first Born Learning Trail with the sponsorship of the Sulphur Kiwanis Club and assistance from Sulphur Parks and Recreation (SPAR) at McMurry Park - 300 S. Hazel Street, Sulphur, La 70663.
To Sponsor a Trail in your park or city
Signs are available in English and Spanish and translations can also be made to most other languages. The trail can be ordered as a kit and includes instructions, hardware, and reinforced full-color metal signs. Building materials and muscle can be locally sourced – installation days are great volunteer events. Signs include the option to have special messaging, including sponsor names, company logos, or other investor recognition.
Contact United Way of Southwest Louisiana to discuss location, placement and partnership options.