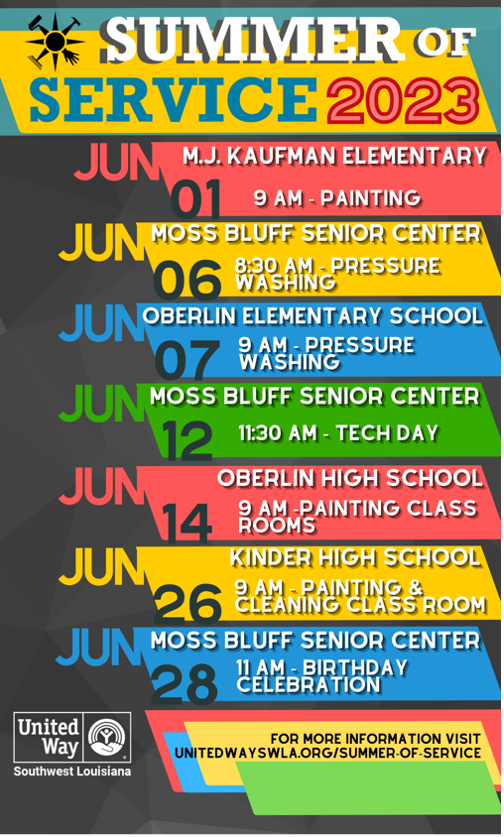 United Way of Southwest Louisiana will be kicking off Summer of Service on June 1st. The Summer of Service program is designed specifically for ages 13-18 and is free and open to all Southwest Louisiana youth. A schedule of June's events is up on our website, unitedwayswla.org/summer-of-service.
All projects focus on developing youth's compassion for the community while addressing unmet needs for some of the area's most vulnerable. "These service projects are an essential way for teens to make an association between helping someone else and their joy and fulfillment," says Denise Durel, President and CEO for United Way of Southwest Louisiana. "A few hours assisting others has long-term implications for our teens and the community. Summer of Service is also a great resume builder for those college applications and job interviews."
UWSWLA's four impact areas are the focus of all work done in the community: education, health, economic mobility, and basic needs. Data collected by UWSWLA shows these are the building blocks for a more successful life.
To be eligible to volunteer, a parent/guardian must fill out the online form, have transportation to and from locations on the days of projects and agree/adhere to the program rules. To register a 13–18-year-old that you have custody of or get more details, visit https://unitedwayswla.org/summer-of-service. Volunteers will be provided a t-shirt, tools, and personal protective equipment for use during the projects.