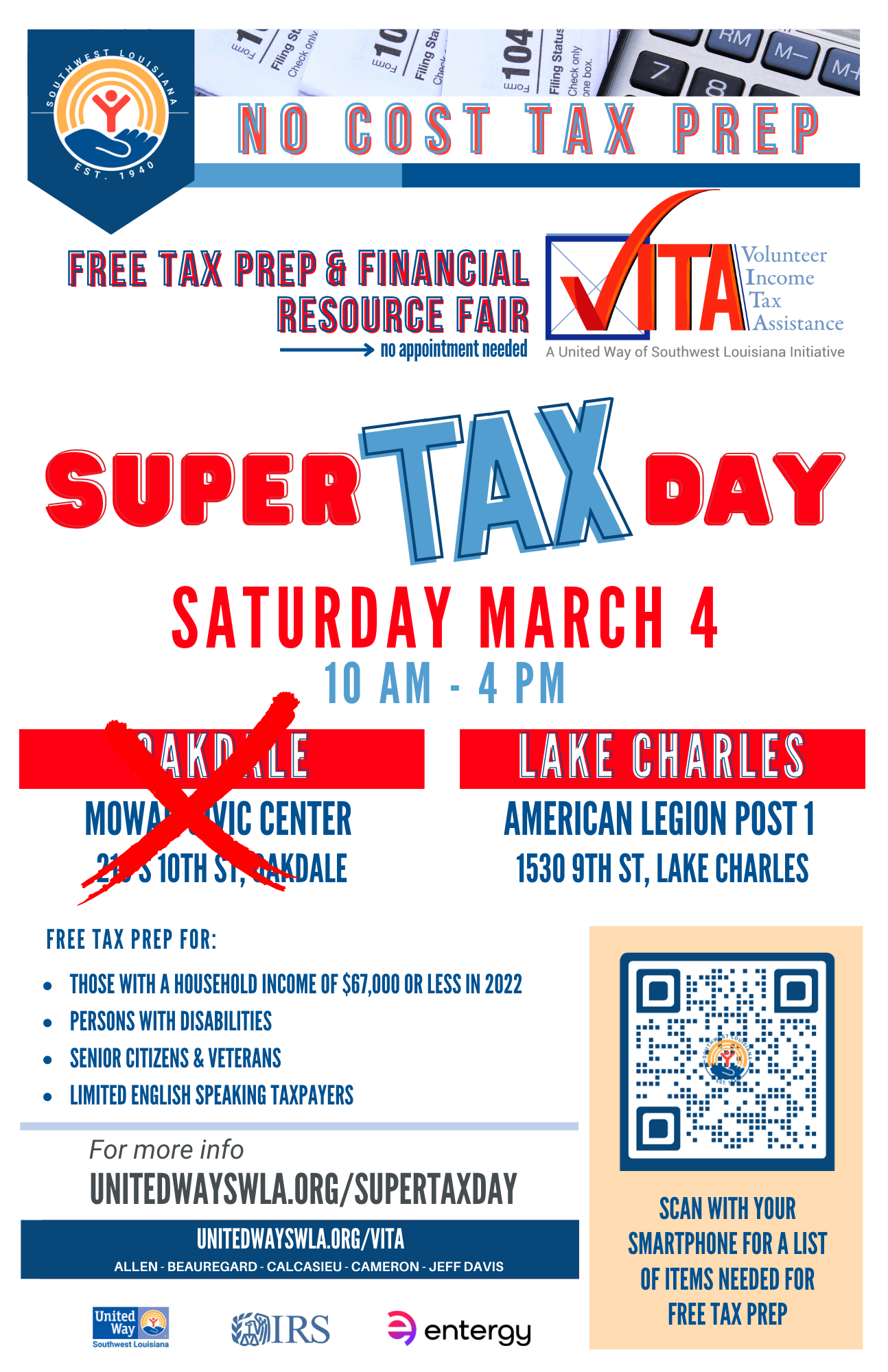 United Way of Southwest Louisiana's VITA Initiative Hosts Free Super Tax Day Events in Oakdale and Lake Charles
In addition to regular VITA (Volunteer Income Tax Assistance) sites, United Way of Southwest Louisiana has planned two Super Tax Day events from 10 am to 4 pm on Saturday, March 4th. The events are planned at the American Legion Post 1 at 1530 9th Street in Lake Charles (Calcasieu Parish) and Mowad Civic Center at 213 South 10th in Oakdale (Allen Parish). - due to the emergency in Oakdale this event is canceled. Call 211 for information on the National Guard's plans to distribute drinking water in Oakdale and make an appointment with a VITA site to have your taxes done when the situation is resolved.
Super Tax Day is a FREE tax preparation and financial resource fair for individuals featuring IRS-certified tax volunteers and United Way of Southwest Louisiana partners with financial resources all under one roof. No appointments are necessary for a Super Tax Day unlike regular VITA sites which require an appointment.
Those with a household income of $67,000 or less in 2022, persons with disabilities, senior citizens, veterans and limited English speaking taxpayers are eligible for VITA.
Those unable to attend the Super Tax Day can make an appointment at a VITA site for an alternate time or location by calling 211 or online at unitedwayswla.org/vita. An up-to-date list is maintained of locations and open appointments.
Additionally, if you make less than $73,000, you can file for free by using the myfreetaxes link on the VITA page at unitedwayswla.org/vita.
For a list of items to bring when having taxes prepared by VITA volunteers see unitedwayswla.org/vita.
United Way of Southwest Louisiana partners with Entergy Louisiana and the IRS for VITA.
About United Way of Southwest Louisiana
Working with the community and many partners for 83 years, United Way of Southwest Louisiana tackles the critical human services issues facing our five-parish footprint of Allen, Beauregard, Calcasieu, Cameron and Jeff Davis. Our United approach is changing the odds for all children, families and individuals in the community, so that we all have the opportunity to succeed. Learn more about our life-changing work at Unitedwayswla.org and follow us on social media @UnitedWayofSWLA
- Operating in the TOP 9% of all U.S. United Ways. –TOP 125 out of 1300 United Ways!
- Maintains a 4-STAR charity rating with Charity Navigator and a PLATINUM SEAL OF TRANSPARENCY with Candid (formerly GuideStar)
- Mackenzie Scott Recipient (1st year, member of the original #UNITEDWAY46)
- LEPA Award Winner 2022 from Governor's Office of Homeland Security and Emergency Preparedness for Outstanding Service
- Weather-Ready Nation Ambassador from National Oceanic and Atmospheric Administration